The Seagull
Written by A.CHEKHOV
Translated and adapted by Hiromasa KIUCHI
Direction: Hirotaka KUMABAYASHI
Photo: KEI OGATA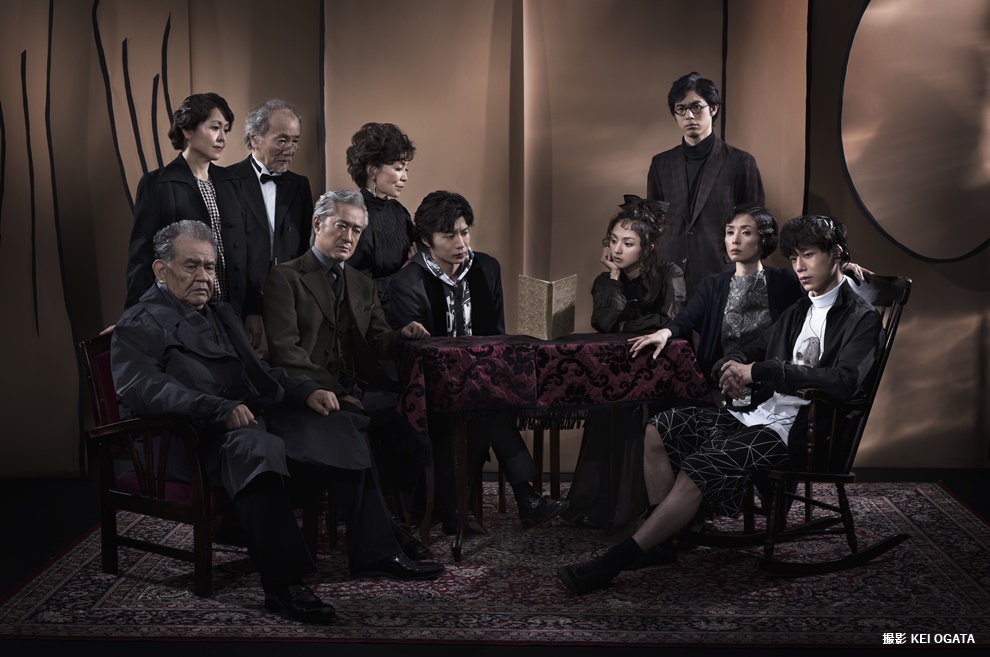 At famous actress Arkadina's estate, a web of complex interpersonal relationships emerges in which no romantic love finds itself requited. Renowned for his style, which incorporates in-depth readings of the play, repeated thorough research and analysis, and staging replete with ingenious devices, rising director Horitaka Kumabayashi takes on Chekhov's The Seagull. With a 10-person star-studded cast of both young and seasoned actors, including Hikari Mitsushima, Orie Sato, Kei Tanaka, Tomoko Nakajima, and Kentaro Sakaguchi, this production seeks to present a definitive edition of the masterpiece.
Information
Venue

Tokyo Metropolitan Theatre (Playhouse)

Dates

10.29 (Sat) 18:00
10.30 (Sun) 14:00
10.31 (Mon) No performance
11.1 (Tue) 19:00
11.2 (Wed) 19:00
11.3 (Thu) 14:00
11.4 (Fri) 19:00
11.5 (Sat) 14:00
11.6 (Sun) 14:00
11.7 (Mon) No performance
11.8 (Tue) 19:00
11.9 (Wed) 19:00
11.10 (Thu) 14:00
11.11 (Fri) 19:00
11.12 (Sat) 14:00
11.13 (Sun) 14:00

Time

TBA

Language

Performed in Japanese

WebSite

http://www.geigeki.jp/performance/theater124/

Type

Theater
Ticket
| | |
| --- | --- |
| All seats reserved | S ¥8,000 A ¥6,500 / Other tickets available |
Cast / Staff
| | |
| --- | --- |
| Written by | A.CHEKHOV |
| Translated and adapted by | Hiromasa KIUCHI |
| Direction | Hirotaka KUMABAYASHI |
| Cast | Hikari Mitsushima, Kei Tanaka, Kentaro Sakaguchi, Daichi Watanabe, Michiko Ameku,Kazuhiro Yamaji, Tetsu Watanabe, Katsuya Kobayashi,Tomoko Nakajima and Orie Sato |
Artist Profile
Born in Kitakyushu City in 1977, Hirotaka Kumabayashi moved to Tokyo after graduating from high school and joined Theater Project Tokyo (TPT) managing productions. After studying under international directors such as David Leveaux and Allan Ackerman, he made his directorial debut with Strindberg's Playing with Fire in 2002. He received overwhelming praise and was awarded the Mainichi Art Award's Senda Koreya Award for directing Jean Cocteau's Les Parents Terrible, staged at Tokyo Arts Theater (with a cast including Orie Sato, Rei Asami, Tomoko Nakajima, Shu Nakajima, and Shinnosuke Mitsushima) in 2010. The play received the Grand Prize in the drama category of the National Arts Festival by Japan Agency for Cultural Affairs, and lead actress Rei Asami received the Yomiuri Theater Award for Best Actress. Kumabayashi currently directs freelance, lending to various productions his style of incorporating in-depth readings of plays to slowly build them to completion.