Creation through International Collaboration "TERU TERU!" / "Purgatory"
"TERU TERU!" Direction: : Tuxqs RUTAQUIO
"Purgatory" Direction: CHUNG Po-Yuan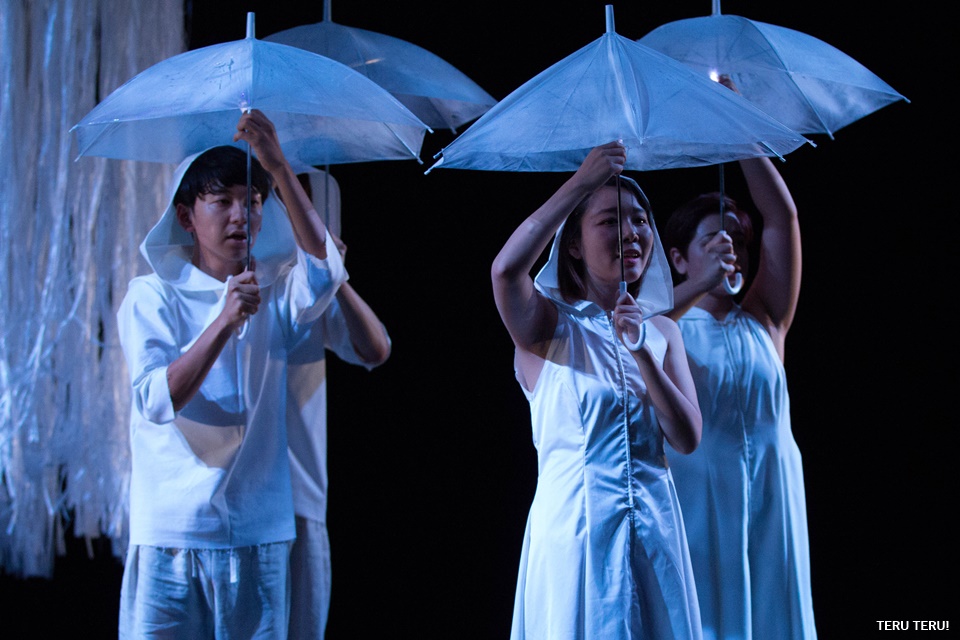 Created at last year's workshop for International collaboration, two works based on the theme of "rain" will be developed into full-scale performances and presented as a double feature.
 TERU TERU! draws from myths and characters associated with rain, a culture shared by Japan and the Philippines. The story was created from an "inspiration board" covered by the actors with materials such as illustrations and past memories. Interspersed with elements of haiku, which each member also tried their hand at during the creative process, the piece presents a spectacle of a teruteru bozu (hand-made dolls made from white paper or cloth for good weather) – a symbol of hope – shining bright.
 Inspired by director Chung's experiences during his visit to Nagasaki prior to the workshop, Purgatory focuses on WWII and the atomic bombing, depicting provocative scenes performed by both Japanese and Taiwanese actors. As a couple, in the midst of excruciating thirst, questions the meaning of peace, all that had seemed dry and awkward – the costume of each actor, the stage set, the dance – is revitalized by the blessing of rain.
Information
Venue

Tokyo Metropolitan Theatre (Theatre West)

Dates

11.19 (Sat) 18:00
11.20 (Sun) 14:00*
*Post-show talk

Language

"TERU TERU!" Performed in Japanese, English and Tagalog with Japanese surtitles (TBA)
"Purgatory" Performed in Japanese and Chinese with Japanese surtitles (TBA)

WebSite

http://www.butai.asia/j/

Type

Dance, Theater
Ticket
| | |
| --- | --- |
| Unreserved seating | Free, Reservation required |
Cast / Staff
| | |
| --- | --- |
| Presented by | Asian Performing Arts Forum |
Artist Profile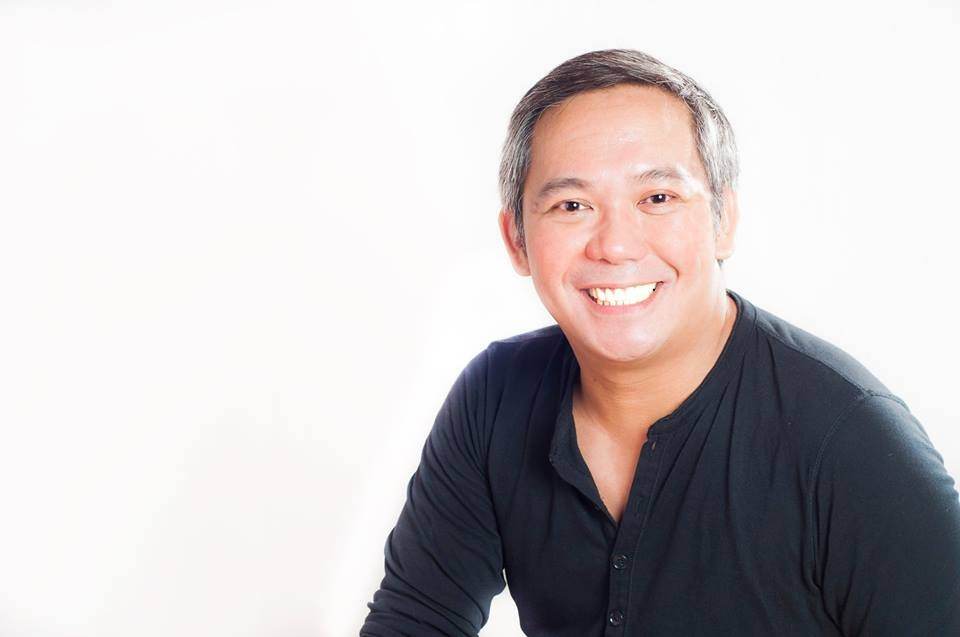 Tuxqs is one of few Filipino theater workers and educators who has successfully evolved from acting on stage to designing for theater, and to becoming director of the more daring productions of recent years.
He is currently the Festival Artistic Director and Dramaturg of Virgin Labfest (an annual festival of untried, untested, unstaged plays of Filipino playwrights) at the Cultural Center of the Philippines. He is also a member of Writer's Bloc. As an educator, he is Assistant Professor at the Department of Applied Arts in Miriam College.
His collaborations with playwright Layeta Bucoy have layered Tuxqs's more recent work as director with relevance, where his directorial and production design work have become imbued with the realities that theater cradles. His recent collaboration is on the World War 2 heroes, Mac & Naty--Macario Peralta and wife, Natividad Kasilag-Peralta. Among the many collaborations, Doc Resureccion: Gagamutin ang Bayan (Heal our Land) and Walang Kukurap (Don't Shut Your Eyes) were critically acclaimed productions that dealt with the political landscape of nation, and which dared to bring it to its truthful and violent ends. Their other collaborations were Sandosenang Sapatos (12 Pairs of Shoes), Tatlong Anak, Dalawang Ina, Isang Hangal (Lear's Daughters), Las Mentiras de Gloria (The Lies of Gloria), Ellas Inocentes (The Innocents) and an adaptation of William Shakespeare's Titus Andronicus (Tinarantadong Asintado). Tu Dulce Extranjera (Your Sweet Stranger) was a production commissioned by the Embassy of the Philippines in Ireland, which was staged in Dublin and County Ofaly in 2011.
In 2014, he took part in the Theater for Development (T4D) in a Post-Haiyan Context as director of the forum theater piece,
Sura
(Food) by Layeta Bucoy, a project of Tanghalang Pilipino in partnership with UNICEF for the Yolanda survivors in Tacloban.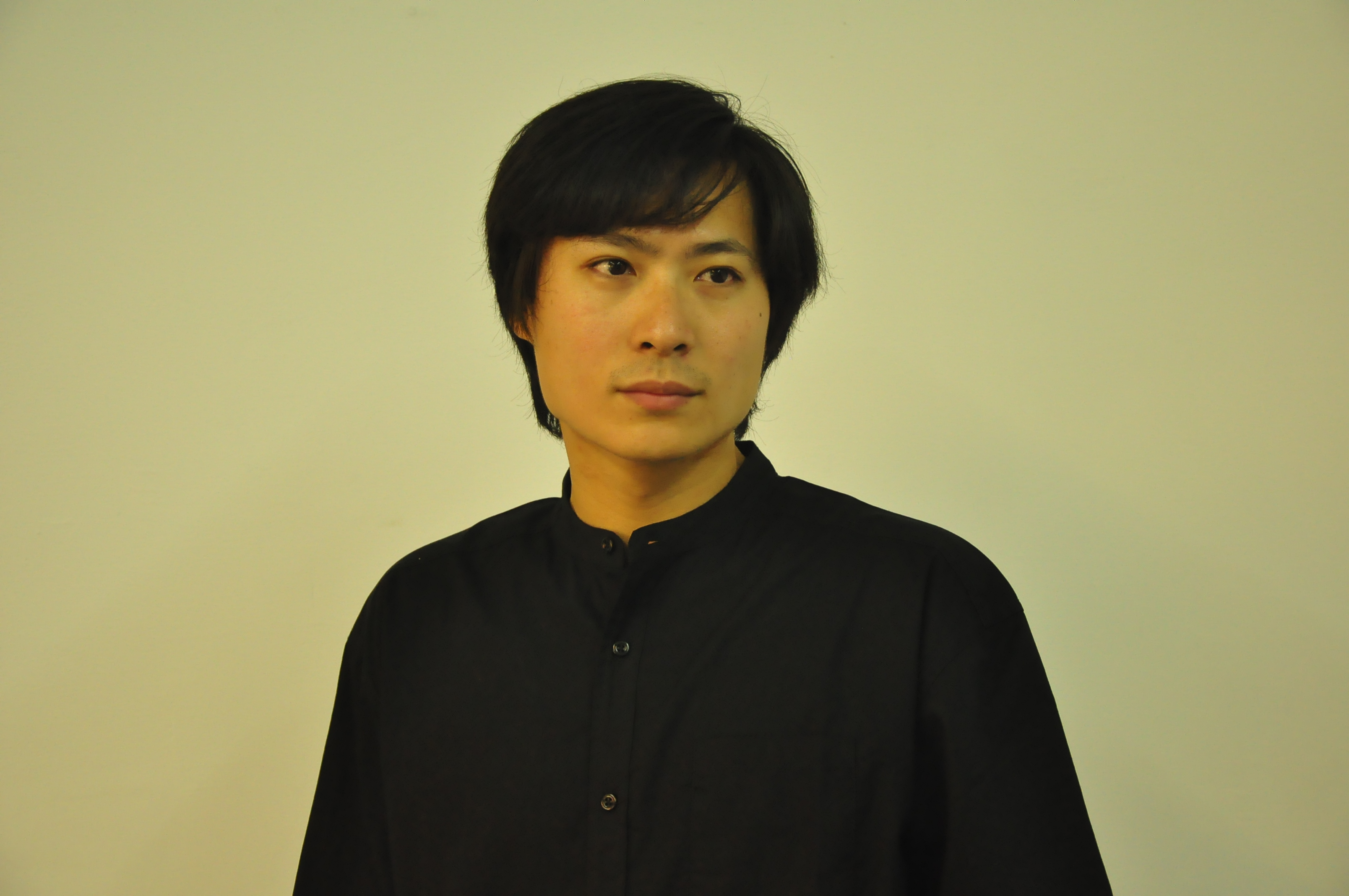 Born in 1985 in Taiwan, graduated from Taipei National University of the Arts and majored in theatre directing. He established Shinehouse Theatre in 2006 and has created more than twenty original works. He also give lectures to drama clubs in various universities, provide drama consulting services to local foundations as well as create original drama and animation. Nevertheless, he also participates as an actor in various performances including commercial, movies and television shows.
Chung's creative philosophy is concerning human as human. His materials are widely diversified, including mythology, folklore, social issues, and literary works. In Shanghai, 2010, a critic described his practice: "His devices are quite sophisticated. His treatment of the few minutes before the performance is delicate. As a theatre director, he is, no doubt, very distinguished." Recently, he has been shuttling between Germany and Taiwan. Inspired by the tours, A Midsummer Night's Chat, was nominated by Taishin Arts Award in 2011, and Armagodden, was nominated by the 6th digital Arts Festival in Taipei 2011. And his works recently was invited to Festival/Tokyo 2013 Emerging Artists Program and Taipei Arts Festival 2015.